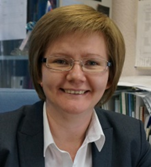 Natalia Sliusar received her MSc degree in environmental engineering in 2001 from the Perm State Technical University, Russia. In 2004 he obtained her PhD degree in environmental engineering and risk management. In 2008, she became an Associate Professor in the Environmental Protection Department at Perm National Research Polytechnic University.
She has experience in teaching and research in municipal and industrial waste management, project management and environmental risk assessment.
She works with enterprises, local authorities and public administrations. She specializes in development of waste management concepts, environmental engineering design and consulting in environmental issues.